Food-based health care though Mid-Ohio Farmacy
Where good health starts with the food on your plate.
Mid-Ohio Farmacy is a program connecting patients with the healthy foods they need. It is brought to you by Mid-Ohio Food Collective and local health care providers and insurers.
Farmacy provides easy access to fresh produce at many area locations. It is not a medicine pharmacy. It is a nutritious food farmacy here to help people with health conditions. It's easy. You enroll with your doctor and you get a card to shop.
Interested in finding out more? Click here to go to the Mid-Ohio Farmacy website.
Lower Lights Health patients who wish to enroll may contact Clarissa Dilaveris, Nutrition Program Manager, at (614) 274-1455 ext. 1410 or clarissa.dilaveris@llchc.org.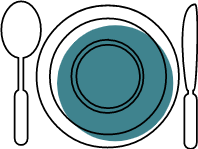 Availability
The Farmacy program is available to qualifying households in Franklin, Licking, Ross and Pickaway Counties.