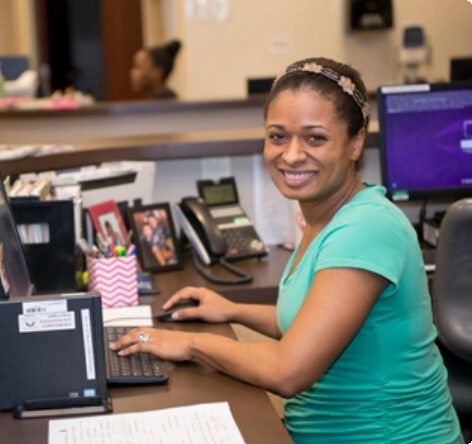 About our staff
LLCHC fulfills its mission with highly qualified staff who find fulfillment by sharing a passion to provide high quality care to our patients. Our expected expansion through added sites and services around Central Ohio will spur ongoing hiring opportunities. LLCHC strives to maintain an atmosphere where professional careers can be established with quality mentoring and where experienced professionals can build rapport and continue their personal and professional development in a collaborative environment.
We are actively recruiting for the following positions:
Location
1160 W. Broad St., Columbus, OH 43222
Position
Full-Time
Job Description
Lower Lights Christian Health Center is seeking a Clinical Mental Health Therapist to join its dynamic team. The successful candidate will identify, triage, and provide psychotherapy to patients with medical and behavioral health problems within the primary care setting. The counselor will diagnose, develop treatment plans, utilize appropriate therapeutic modalities while tracking patient progress throughout the clinical counseling process. Counselors will provide psychoeducation to patients on their diagnosis. **Minority Candidates are strongly encouraged to apply!! **
Qualifications
A Master's degree in clinical counseling from an accredited university
Current license to practice as a LISW, LISW-S, LPCC, LPCC-S in the State of Ohio with a minimum of 5 years clinical experience
Experience in trauma and SUD
Evidence of mature judgment, ethical conduct and leadership skills
Skill in crisis intervention and de-escalation strategies
Ability to utilize assessment tools for diagnosis
Ability to work with patients diagnosed with depression, anxiety, PTSD, mood disorders and other mental health disorders outlined in DSM-V
Ability to perform evidenced-based therapeutic treatment modalities in clinical session.Knowledge of psychotropic medications
Ability to work with culturally diverse patients
Ability to effectively present information both orally and written to medical providers, psychiatry and other professionals connected with the physical & mental health care of the patient
Ability to work positively as a team member with Behavioral Health team, Psychiatrist and Primary Care Physician
Ability to work independently and implementing time management strategies
Must be willing to work in multiple sites as needed
Ability to precept master degree 1st and 2nd year students in clinical counseling for internships
Awareness of personal strengths and ability to provide necessary self-care.
About Us
Lower Lights Christian Health Center (LLCHC) is a faith-based, nonprofit community health center that exists to minister the love of Christ as a full-service medical home, focused on quality whole person wellness. Monday-Friday, working hours vary by location (7:30-4:30, 8-5, 8:30-5:30). Occasional Saturday morning coverage a few times per year.
We offer competitive benefits such as medical, dental and vision as well as paid time off, and a host of voluntary benefits.
Lower Lights Christian Health Center is an Equal Opportunity Employer
Why choose Lower Lights Health
The warm and caring atmosphere of LLCHC, is created by a team of both healthcare professionals and clinicians, coupled with a dedicated team of other professionals within our growing organization who are passionate about ensuring that our patients and residents who live within the multiple communities in which we serve are offered the utmost level of outstanding care along with a bevy of supportive resources in the various community-oriented sites in which our health care centers are located.
At Lower Lights, we're also dedicated to creating thoughtful and supportive work environments for our team members. Whether you're beginning your career or you're a tenured member of our team, expect the support you need to succeed in your role, respect for your individual contributions and opportunities for personal and professional development. By joining our dedicated team of professionals, we'll trust you to bring your best self to work each day, and to show compassion and care for our patients and your fellow team members. In return, you'll be rewarded with a competitive array of benefit offerings, including major medical, dental and vision, along with PTO (paid time off) and a company matching 403b retirement savings plan!
Lower Lights (LLCHC) is a patient-centered community of health centers, committed to delivering high-quality, affordable health care services to all irrespective of income level or insurance status, ministering the love of Christ, focusing on whole-person wellness, and treating all patients and employees with respect, dignity, and compassion.